After Star Wars: The Force Awakens rejuvenated the franchise back in December, all eyes quickly turned to Episode VIII, then thought to be opening May 2017 (and later pushed back 7 months), instead of Rogue One: A Star Wars Story, the saga's first spinoff film opening in December 2016. And though Rogue One is simply explaining events in-between Revenge of the Sith and A New Hope (the theft of the Death Star plans, to be specific), while Episode VIII is continuing to venture into new, unknown territory, fans should still be just as excited for Rogue One. Why? Let's take a look.
Rogue One is the first Star Wars film with an entirely new cast (or at least, no confirmed returning cast members). The filmmakers continued The Force Awakens' trend of undoing the sexism of the previous trilogies by casting Oscar nominee Felicity Jones as the main character, rumored to be named Lyra Eso (or Jyn), a prominent Rebel fighter.
In foregound, from left to right: Riz Ahmed (Bodhi Rook), Diego Luna, Felicity Jones, Jiang Wen, Donnie Yen
Other members of the gang include Chinese star Jiang Wen as the weapons enthusiast (the man in the red armor), Oscar winner Forest Whitaker as an amputee bounty hunter, and Alan Tudyk as a cool-looking commando droid. Mads Mikkelsen is known for playing villains in Casino Royale and Hannibal, but he recently stated that he's "actually not a bad guy" in the film; instead he's rumored to be playing Galen, the scientist in charge of the Death Star project who feels guilty for his work and enlists his daughter, Jones' character, to help him make things right.
As you can see, the list of new characters is a very diverse one, and there's quite a bit of talent behind them, too.
Familiar Faces
Since Rogue One does take place in-between Revenge of the Sith and Return of the Jedi, it's kinda inevitable that there'll be some familiar characters, even if no one at Disney/Lucasfilm will admit it yet. In fact, there's a great chance (and even reports) that we'll be seeing one of the most recognizable characters in not just Star Wars, but the entire history of cinema: Darth Vader.
From both the Original Trilogy and the Sith Lord's brief appearance on Star Wars Rebels, we know that one of his primary jobs is basically to crack down on any resistance to the Galactic Empire, so the Rebels' daring mission in Rogue One would naturally attract his attention. Plus, showing Vader in the first trailer (which is reportedly coming soon), or even just the sound of his iconic breathing, would make for a great tease and prove to audiences that Rogue One's story will be truly significant.
Another somewhat-classic villain that we're likely to see is Grand Moff Tarkin. In A New Hope, he was the commander of the Death Star and worked alongside Vader to defeat the Rebels before his demise when the superweapon exploded. If Rogue One's writers didn't want the challenge of incorporating Vader into the script (due to the huge reputation of the character), they still could've included a young version of Tarkin as the primary antagonist.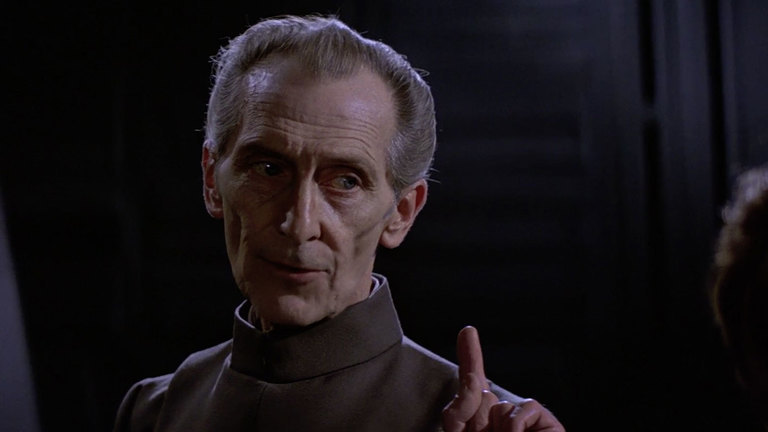 The Nuremberg Toy Fair in late January showed us not only the official costumes from the film, but also a very surprising tease of the inclusion of everyone's favorite bounty hunter: Boba Fett. A banner of the upcoming LEGO Star Wars sets showed Slave I, Fett's signature ship, representing Rogue One. We can only guess how Fett would fit into the film, but reports from late July indicate that he could be the father of Jones' character (instead of Galen) and hired by Vader to retrieve the plans for the Death Star after the Rebels steal them.
The Tone
Rogue One takes place during the height of the Empire, after the Sith got their revenge and before a new hope arose, so we can assume that it'll have an appropriately dark tone. (The trailer will, at least.) There's no Jedi, no official Rebel Alliance, just a ragtag group of fighters hoping to perform a risky heist. As long as the film still has the colorful characters and lighthearted moments that all of the previous Star Wars films (even the Prequels) have featured, this will set the film apart from the rest of the series, in a good way.
A leaked image from the film
Furthermore, you can expect to see technology and concepts different from anything seen before in Star Wars. Not only have they undoubtedly come up with new designs for the weapons, vehicles, aliens and starships, there'll even be new stormtroopers (pictured below). Instead of using just the classic trooper armor from the Original Trilogy (which will seem outdated after seeing the First Order troopers in The Force Awakens), the film will feature tan-colored "Sandtroopers" and a presumably elite squad of awesome-looking, black-colored "Death Troopers" or "Shadowtroopers", according to Making Star Wars.
It's Coming Soon
Yeah, sure, maybe right now it's only fans and professional news outlets who talk about Rogue One, but that'll change soon. The film is opening on December 16th, which might seem like a long time from now, but once the trailer drops within the next few months, regular audiences will be aware of it. The discussion will start, and it'll only grow as we get more trailers, toys, magazine covers, and other promotions in the months leading up to December.
A fan-made poster of Felicity Jones in Rogue One
There'll be plenty of time to pore over the Episode VIII set pictures and debate Snoke's true identity; for now, you should focus on the next thing coming to theaters with "Star Wars" in its title, because it's looking to be a pretty great movie.
How excited are you for Rogue One? What other familiar characters do you want to see? Tell me in the comments or tweet to @SithObserver, and may the Force be with you all.