The recent weeks have been plagued with nasty rumors about the status of Rogue One: A Star Wars Story. Following the original report that Disney had ordered extensive reshoots during the summer, more stories started to pour in, including those that claimed that a new director was conducting the reshoots and almost 50% of the film was going to be scrapped and replaced by new footage. But although it may be true that there is some behind-the-scenes conflict at Lucasfilm and Disney, there's no reason to really worry about the finished result of the film.
First of all, this is Disney we're talking about. Despite the fears that they would make The Force Awakens too kid-friendly, the studio proved that they could incorporate serious themes while maintaining a fun sense of adventure when the film hit theaters. Clearly they understand the Star Wars tone pretty well, so if they saw a cut of Rogue One and thought it missed the mark, then maybe they were actually right.
And yes, they are the kind of corporation that has a lot of money and wants even more, but Disney has shown repeatedly that they care about making good movies—or at the very least, they've recognized the positive correlation between the critical reception and box office sum of a film. The quality of Rogue One – whether or not it's good – determines how many casual moviegoers will buy tickets, and therefore could make a difference of hundreds of millions of dollars for them; they have motivation to create the best product possible.
Additionally, we really don't know if major changes are even being made to the film. When news sites hear that the (arguably) most anticipated movie of the year is receiving an unusually-long period of reshoots, there's an obvious tendency to spread rumors about the motives behind them; for example, when Suicide Squad underwent reshoots in April, there were reports that "more humor" was being added (due to the complaints about Batman v Superman), which the director completely denied.
Perhaps the best way to sum this up would be a quote from Rogue One star Mads Mikkelsen, who confirmed to The Independent that he was planning to attend reshoots and gave his own perspective of their true nature:
"Basically, all the big films I have done always have reshoots, it is part of their budget. They're either not super happy with a scene bit, the way we were acting, or maybe there's something they want to add. It's not a new thing, it happens with every film. Whether it's bigger or less, I have no idea, I have nothing to compare with. It's the same film, it's just adding little bits here and there to do the final polishing."
One could certainly argue that Mikkelsen wouldn't exactly admit it if his film was in serious trouble, but he does seem to have an accurate, insider understanding of what the term "reshoots" means. In the same interview, he also suggested that Disney must "love" all these rumors because of all the discussion it's generating about the Star Wars Anthology film.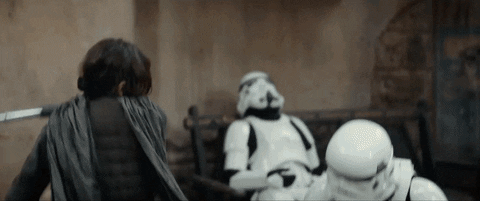 Whether the Rogue One reshoots are factual or have just been exaggerated and twisted by the pageview-hungry media, we can still be assured that the film is in the hands of people who genuinely want it to live up to the Star Wars name...even if there's a few bumps on the road to that objective. Are you worried about Rogue One? Tell me in the comments or tweet to @SithObserver, and may the Force be with you all.